Shrpa is a SaaS platform that connects destinations with content creators, making it easier to share authentic, user-generated content that will help travelers discover what to do, see and experience in a community or travel destination.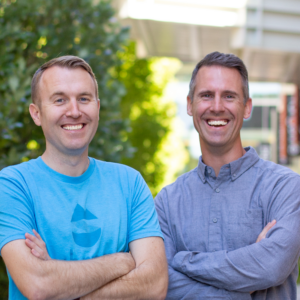 Shrpa CEO Chris Lukenbill and co-founder Andy Vig came together from different software backgrounds to work on building their own business. With an early idea in 2019 around travel itineraries, they found value in hearing from others as they participated in pre-revenue incubators.
As they looked to bootstrap their concept, they spoke with visitor bureaus and discovered the problems these organizations have finding and accessing good content to use in marketing. With those insights, they shifted their focus to a business model that would make connections between destinations and content creators more friction-free – offering an easier way to source the valuable user-generated content that every travel destination wants.
Chris's experience with early user-generated content working with agencies and businesses made this a natural fit. And with a few friends who were travel writers being paid for covering comped trips – their new focus took shape.
An online platform to connect destinations and creators
Shrpa's primary audience is destination marketing organizations: visitor bureaus, state tourism bureaus and even chambers of commerce. A Shrpa subscription gives those customers access to content creators through creator visits. With a creator visit, the destination outlines their needs and what they'd like created. Those creator visits are then offered to all the creators on the platform who have that destination in their range.
Content creators with a completed profile on Shrpa apply for visits and the destination can select those with the best fit. Once selected, that content creator is compensated to visit the destination to take photos and videos, and at the close of the trip, upload all the content into an itinerary. The destination subscriber is then able to use all the content that's been stored on Shrpa for marketing – making it a one-stop-shop for getting fresh content created and using all the content they already have.
Finding mentors to grow their business adventure
Both Chris and Andy are committed to tapping into advisors and resources to help them grow their business. As they developed the first iterations of their platform, they continued to seek out opportunities that would allow them to test it and grow – from gener8tor to the MN Cup. After hearing MESA co-founder Jim Moar on a tech.mn podcast, they sought out MESA for an ongoing relationship and in February of 2022, they joined the MESA mentoring program.
Since both Chris and Andy were software developers by trade, they knew they needed help on the business and sales side. Brett Keirstead, MESA mentor and experienced sales executive, has been with Shrpa from the beginning of the relationship, helping Shrpa think through and develop a sales process that would fuel their growth. As Shrpa grew, MESA mentor Robert Tuttle was recently added to the Shrpa mentoring team, offering valuable partnership expertise for Chris and Andy.
"Brett has been a wonderful resource for us," explained Chris. "He helped us understand how to manage our sales pipeline, ensure deals were moving through at the proper pace and evaluate our actual close rates. He's helped grow our ability to track and manage an effective sales process."
Beyond the critical sales focus that every startup needs, Chris finds value in having an experienced guide and sounding board.
"Having someone with all those life and business experiences that you've never had in your corner to provide good, critical feedback is invaluable. And because this is an ongoing relationship, if I talk with Brett tomorrow, he knows everything we've been through in the last two-plus years – I don't have to bring him up to speed."
Gaining traction and building momentum
One of Shrpa's first big breaks came with a cooperative marketing deal with Explore Minnesota. That subscription allowed communities within Minnesota to participate on the platform and market their location more effectively with user-generated content. And they've grown from there.
Today, Shrpa is in 17 states with the goal of national penetration within two years. Even better, for two years in a row, Shrpa has posted nearly 100% year-over-year growth, making their national presence goal even more real. Just recently, the company was selected by B2B SaaS accelerator TinySeed to join their year-long program.
"Because we're bootstrapped, we've been laser-focused on growing our sales," Chris explained. "And Shrpa's 100% year-over-year growth these past two years is a huge testament to our work with the MESA mentoring program and with Brett. Brett's going to have a hard time getting rid of us!"
As their lead MESA mentor, Brett is excited for Shrpa's future and the continuing relationship.
"I look forward to our monthly sessions with Chris and Andy. They are always well prepared and thoughtful about the key topics they want to discuss," Brett commented. "They are extremely inquisitive and apply ideas from our conversations to the operations of their business. They aren't afraid to admit when things don't work out and are willing to change course when required. I expect nothing but continued success for Chris, Andy and the Shrpa team!"
Are you a founder of an emerging software company? Contact us to find out how mentoring can help you and your business reach your goals.