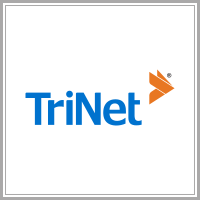 TriNet has been a valued MESA partner since 2019. Justin Balfany, HR Tech Consultant, and Abigail Johnson, HR Sales Consultant were introduced to MESA by Kevin Spanbauer, a MESA co-founder. Because TriNet takes a community-based approach, they were excited about the prospect of a partnership and to MESA's mission of pro bono mentoring focused solely on the startup's well-being.
TriNet, a professional employer organization, or PEO, provides small and medium-sized businesses (SMBs) with full-service HR solutions tailored by industry. To free SMBs from HR complexities, TriNet offers access to human capital expertise, benefits, risk mitigation and compliance, payroll, and real-time technology. From Main Street to Wall Street, TriNet empowers SMBs to focus on what matters most – growing their business.
TriNet offers the following insights on human resources outsourcing.
On average, small businesses spend one day a week or more1 on human resources related tasks. When combined with the average employee wage, it's estimated that a total of $27 billion per year2 is spent handling HR tasks within the small business market. This can drain resources needed to grow your business and negatively impact your company's success. To help you get more out of your efforts, consider some of the advantages of outsourcing your human resources.
Which HR Functions Can be Outsourced?
HR departments are responsible for undertaking a variety of tasks within an organization. When you're a small to medium sized business, this consumes a lot of time and resources that could otherwise be spent growing your company or fostering customer relations. Some of the HR functions that can be outsourced include the following:
Compliance
Employee Relations
Payroll Processing Services
Workers' Compensation
Benefits of Outsourcing HR
Save Money on Administration Costs
While outsourcing your HR needs comes at a cost, it's negligible when compared to the value HR expertise can bring. Standard HR departments have many responsibilities requiring significant staff to fulfil them. As your company grows, your HR department needs to grow alongside it. When you outsource with a PEO, you'll receive access to scalable HR professionals and experts that expand with your workforce. Outsourcing can provide a substantial savings on overhead cost. Some of the areas where you may find savings include payroll processing, training, and salaries of the HR expertise you'd otherwise have to employ.
Offer Employees More Services
Small to medium-size businesses don't always have access to benefits or employee services. This can create issues when recruiting and retaining top talent. When you work with a PEO, you gain access to comprehensive big company benefits that your employees deserve. This includes traditional and non-traditional benefits. Access to benefits can also extend beyond medical, to dental, vision, life, disability, retirement, transit, and other voluntary benefits that help improve an employee's compensation satisfaction. This can decrease employee stress, improve productivity, and strengthen retention.
Increased Efficiency
One of the most notable benefits of outsourcing your HR is the time saved within your organization. When you have an in-house team, they need to navigate piles of paperwork, HR compliance, risk mitigation, employee benefits, processing payroll, employee complaints and other important HR functions. Outsourcing allows you to free up this time and increase the overall efficiency of your company. This gives you the capacity to hire a workforce that spends their time advancing your company's strategic goals, growing your revenue stream, and improving customer loyalty.
Access to Expert HR Consultants
Overall, outsourcing offers unbeatable access to expert HR consultants. As such a rich and complex department, you want to make sure they have the skills and knowledge to properly help you with your HR responsibilities in the most effective manner. HR outsourcing is the solution to this problem. Working with a PEO provides you with a team of experienced HR professionals who understand the intricacies involved in processing payroll, benefits administration, risk management and various other aspects of people management.
1 HR Daily Advisor, "How Much Time Do You Devote to People Paperwork?"
2 ICSID, "Small Businesses How Much Time is Wasted on HR?"