Tell us a bit about your background George.
I've been in software and the cloud for about 25 years, back when it was all starting, working with small emerging companies as the head of sales and marketing. One of my most interesting experiences was with Enstratius where I was one of the founding management team members. We grew that business to be the leader in cloud management and were acquired by Dell. More recently, I've been an independent consultant. Conservis, a platform for operational and financial management for corporate and large family farms, was one of my clients and they hired me full-time in 2022 as VP, Sales and Marketing.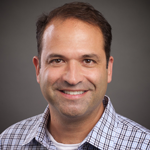 Why did you become a MESA mentor?
It goes back to my experience with Enstratius. I didn't have a mentor or somewhere to turn to ask what I should be doing as an early-stage company. I was kind of making things up as I went along. It ultimately turned out great, but it would have been helpful to have somebody who had been through that process to say, 'Have you thought about this?' or 'These are the metrics you should think about tracking or the people you should bring on board.' So that's when I reached out to MESA. I wanted to help emerging software companies that are in that same situation and offer them some guidance and assistance based on my experience.
Are there any highlights from your experience working with MESA mentees?
One experience that stands out is working with HabitAware along with Dan Kinsella, another MESA mentor. HabitAware is an innovative, woman and minority-owned organization with a patented bracelet technology designed to retrain your brain away from compulsive negative behaviors. Seeing them take their idea from an early stage to a growth stage during the years we worked with them was really rewarding and very fun.
What does mentoring mean to you?
For me, mentoring is simply giving back to people that are in the same boat that I was in 20 years ago. It helps those early-stage startups have a better chance for success by having access to somebody who had a similar experience. I've been involved in the Twin Cities startup community, and I want to see it grow and thrive – so this is a way to give back and help it be more successful.
What do you get out of being a mentor?
I've met some great people and I've learned about new industries. Like HabitAware, and my current mentee, Proserva, which is a platform to help with the accreditation of teachers and deal with the teacher shortage today. Those are markets I've never been involved with – and learning about those markets, the problems they are solving, their competitors and customers, the challenges in developing or bringing their products to market – it's been very interesting and eye opening
Any final thoughts?
I would encourage others who have had experiences that could help early-stage Minnesota-based software companies be more successful to get involved and be a mentor. And I'd encourage any early-stage software organization that could benefit from mentoring to reach out to us. There are some very experienced, smart, kind, and giving people in the MESA organization that are ready to give back to the Minnesota startup community.