Yu Sunny Han is on a mission. He and his company, Fulcrum, celebrate the craft of manufacturing and its ability to unleash innovation, power progress and grow the economy. In the face of consolidation overseas, Sunny wants to preserve the artisan craft of manufacturing, so high-quality products and new ideas continue to flourish here in the United States.
Fulcrum is a cloud-based software system that includes everything from demand planning and scheduling to quality control and inventory for small to mid-size manufacturing creators. With elegant, easy-to-use software, Fulcrum takes complex business problems and decision-making in today's manufacturing environment and applies live data, machine learning, and predictive analytics to power smarter, faster business decisions.
"We care about manufacturing. We've been on shop floors, and we know how manufacturers work. We care deeply about their lives and what they produce," Sunny explained. "Our product is a technology that helps improve the way they operate."
"Instead of just being a database, we use artificial intelligence to help our customers make important decisions. And we have a beautiful interface so entering data into the system is easy. Together these two elements create a higher degree of performance and efficiency for our customers."
Fulcrum helps manufacturers address important issues they face today: How can we optimize our inventory position in the face of fluctuating order volume? What to purchase, when, and at what price? What inventory to hold and have on hand? And more.
Early days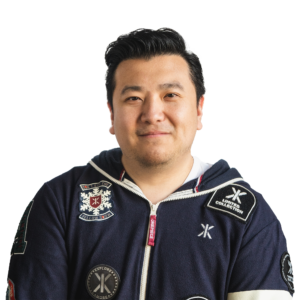 Sunny emigrated to Minnesota from China at a young age with his parents who were drawn by the University of Minnesota's reputation in computer science. Technology seems to be in his DNA. At the age of seven, he learned to program and started writing software. At U of M's Shepherd Hall, he witnessed Gopher Net die and the Worldwide Web emerge.
After early career consulting and entrepreneurial experiences, Sunny ran a custom ERP software consultancy from 2015 to 2019 and saw first-hand the challenges manufacturers face on a daily basis. It was then that Sunny realized there were no products adequately addressing those challenges and set out to create one. The consultancy and product side of the business split, and with a team of seven, Sunny started building Fulcrum as a product in November 2019. In April 2020, he launched the business.
Fulcrum's market focus is on discrete manufacturing, those companies creating physical products, across all kinds of industries. That market potential in the U.S. alone is 300,000 manufacturers. Rather than swallow the elephant, Fulcrum is focused on smart growth, concentrating on manufacturers in the U.S. and Canada with 10 to 100 employees and a need for quality.
With a Series A investment of $18.8 million in June of 2021, Fulcrum added an engineering team and dramatically expanded product development. Fulcrum has grown from one customer in 2020 to 300 customers today, with revenues growing annually to a projected $7 million this year.
Finding guides to grow.
Sunny believes that being a new CEO is like being a child again: everything is new and there is much to learn. But unlike the systems in place to help a child learn and grow – parents, schools, teachers, companies and peers – the village of people that can support the growth of a CEO is very small.
Aware of his limitations as the founder and CEO of a nascent software business, he needed to find people that had contextual experience with what he was going through. He built a small network of advisors he could turn to – but also realized he needed mentors and a safe place to talk about things he couldn't discuss with his team or board. For almost two years, Sunny has been a MESA portfolio company, meeting every month with mentors John Tedesco and Connell Smith.
"I need mentors and I will continue to need mentors. I also need someone who's been through the startup experience and knows how to communicate with me," Sunny explained. "John and Connell know what it feels like to be in my position and the positive impact the support of others can have. They're able to ask me the right questions, challenge me in the right way, and help me stay focused on my goals to make progress. MESA is just a group of people that get it."
"The value of MESA is the speed of growth. As a newer CEO, I'd be under-matured without a community that is unbiased and clean. And MESA represents one of the most unbiased groups that help me think for myself. The support I get from MESA is focused on and adapted for my needs."
As Sunny looks at peers and friends that have started tech companies in other cities and states, he doesn't know of anyone who has had an experience like he's had with MESA. As an organization that is completely reliant on C-level executives with startup experience who donate their time, MESA mentors take no compensation or equity position with the companies they coach.
Mentor John Tedesco shared, "Sunny is the ideal CEO to partner with on his entrepreneurial journey. He has a big, transformative vision for a large staid market; a wide surface area of domain expertise to apply to building Fulcrum's innovative platform; and a tremendous work ethic that permeates the Fulcrum culture. He perfectly balances the conviction of his beliefs with the humility and vulnerability to recognize that he does not have all theanswers."
A vision for the future of manufacturing.
Sunny isn't motivated by personal wealth and possessions. Rather, he'd like to make a larger contribution by creating something that has generational value.
"Bringing technology to manufacturing may not seem like the sexiest thing, but it has a large potential to impact the market and set it on a path for the future," said Sunny. "It feels special and scary and daunting that there is this possibility that the work that Fulcrum is doing might influence the trajectory of how manufacturing grows in the future and what it becomes."
"The concept of 10 or 20 giant omni-factories building all of our products is horrific. Coming out of WW2, America's future was driven by hundreds of thousands of artisan-level manufacturers understanding how to work with materials and work together. And without some technological coordination, we won't be able to grow the innovation of our manufacturers and the centralized method will win."
Sunny summed up, "That's our vision – to provide a technological solution to coordinated manufacturing and to do it in a way that promotes more innovation."
Are you a founder of an emerging software company? Contact us to find out how mentoring can help you and your business reach your goals.